All campaign items
3 items
Dove Sensitive Skin Hypoallergenic Body Wash, 20 fl oz, $7.49
Dove Sensitive Skin Hypoallergenic Body Wash, 22 fl oz The Dove Difference: Our hypoallergenic formula with Microbiome Nutrient Serum, gently cleanses and nourishes skin, leaving it soft and moisturized in just one shower. Our nourishing body wash has : Naturally-derived cleansers Skin-natural nutrients Plant-based moisturizer 98% of ingredients break down into carbon dioxide, water & minerals.* *OECD test methods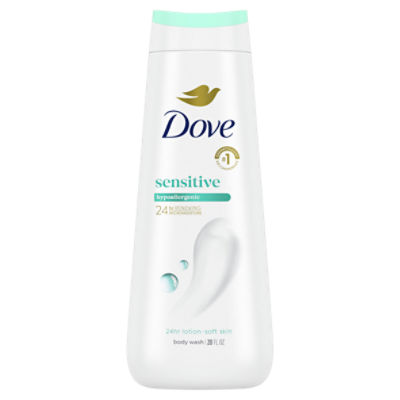 Dove Sensitive Skin Hypoallergenic Body Wash, 20 fl oz
Open Product Description
Dove Beauty Bar Gentle Skin Cleanser Original 3.75 oz, 6 Bars, $8.49
Dove Beauty Bar Gentle Skin Cleanser Original 3.75 oz, 6 Bars Dove Original Beauty Bar and gentle skin cleanser combines a gentle cleansing formula with our signature 1/4 moisturizing cream to hydrate and nourish skin, instead of leaving skin feeling dry and tight like an ordinary bar soap might. Dove mild cleansers help skin retain its natural moisture, which helps replenish skin-natural nutrients that can be lost during the cleansing process. Include this Beauty Bar in your bath and skin care routine as a facial cleanser or as a gentle skin cleanser for your body and hands. For best results, rub between wet hands and massage the smooth, creamy lather over your skin before rinsing thoroughly. The secret to beautiful skin is moisture, and no other bar hydrates skin better than Dove. Formulated with gentle cleansers that care for skin as you cleanse, this moisturizing body soap helps deliver nourishment and leaves your face and body feeling soft and smooth and looking more radiant than ordinary soap does. Experience gentle cleansing with the same great formula wrapped in a new look. Our vision is of a world where beauty is a source of confidence, and not anxiety. Our mission is to help the next generation of women develop a positive relationship with the way they look, helping them raise their self-esteem and realize their full potential.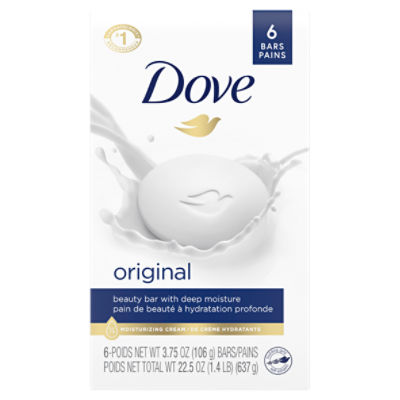 Dove Beauty Bar Gentle Skin Cleanser Original 3.75 oz, 6 Bars
Open Product Description
TRESemmé Rich Moisture 7x Luxurious Moisture + Hyaluronic Plex Shampoo, 28 fl oz, $4.99
TRESemmé Rich Moisture 7x Luxurious Moisture + Hyaluronic Plex Shampoo, 28 fl oz There's something about silky hair that's full of natural movement that lets you take on the day with confidence. You can now get that salon-level style at home with TRESemmé Rich Moisture Shampoo for Dry Hair. This hydrating shampoo delivers 7x more luxurious moisture, when used as a system vs non-conditioning shampoo, to leave your hair feeling soft, beautiful, and healthy. The end result? Gorgeous silky hair that lasts. TRESemmé Rich Moisture Shampoo for Dry Hair, with Hyaluronic Plex™, nourishes strands leaving them feeling hydrated, soft and with healthy-looking shine. Formulated with amino acids & ceramide, this salon-level Pro Style Technology™ makes hair 3x stronger, 3x more manageable, and resistant from breakage (vs. a non-conditioning shampoo). Make your hair the perfect style canvas with this shampoo. How to use the Rich Moisture system: Step 1: Apply the shampoo to wet hair liberally and gently massage the scalp and roots with fingertips to work into a lather. Step 2: Lightly squeeze the TRESemmé Rich Moisture Conditioner for Dry Hair from roots to ends and rinse thoroughly. Step 3: Finish and style with your favorite TRESemmé products. This TRESemmé shampoo is free from Parabens, Mineral Oils, and DMDM Hydantoin. We've always understood that style is more than a look, it's a powerful tool to help you achieve your dreams. With our professional quality care, a world of style possibilities is yours to achieve. Every choice we make at TRESemmé, from the values we promote-such as not testing on animals and being PETA-approved-to the carefully selected ingredients we use, are made to give you professional salon quality haircare products you can trust. Because 70 years on, we believe in the power of style. So tell your story, make your mark - and achieve your aspirations with confidence. With TRESemmé, you can DO IT WITH STYLE.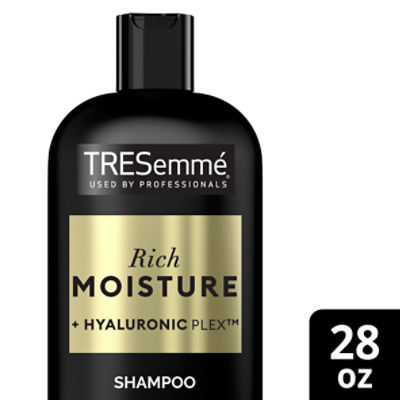 TRESemmé Rich Moisture 7x Luxurious Moisture + Hyaluronic Plex Shampoo, 28 fl oz
Open Product Description