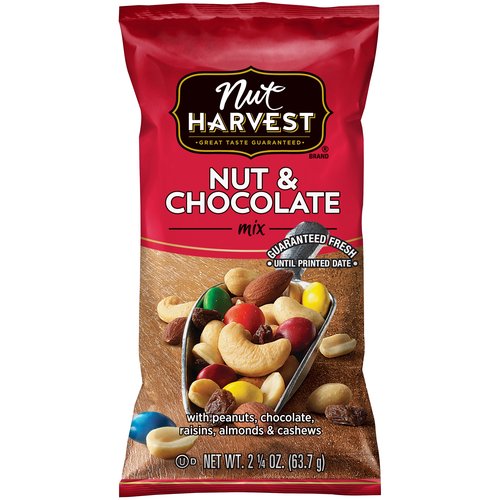 Nut Harvest Nut & Chocolate Mix, 2.25 Ounce
Description
Chocolate Nut Medley.
Ingredients
Peanuts, Milk Chocolate (Sugar, Cocoa Butter, Chocolate Liquor, Whole Milk Powder, Soy Lecithin, Vanilla), Raisins, Almonds, Cashews, Sugar, and less than 2% of the following: Artificial Color (Blue 1, Blue 1 Lake, Blue 2 Lake, Yellow 5, Yellow 5 Lake, Yellow 6, Yellow 6 Lake, Red 40, Red 40 Lake), Vegetable Oil (Peanut, Soybean, Sunflower, and/or Cottonseed Oil), Salt, Sorbitol, Phosphoric Acid, Methyl and Propyl Parabens, Corn Syrup, Beeswax, Carnauba Wax, and Dextrin. CONTAINS ALMOND, CASHEW, MILK, PEANUT, AND SOY INGREDIENTS. MAY CONTAIN TRACES OF OTHER TREENUTS
Product Number: 00028400034821
Description
Chocolate Nut Medley.
Product Number: 00028400034821
Ingredients
Peanuts, Milk Chocolate (Sugar, Cocoa Butter, Chocolate Liquor, Whole Milk Powder, Soy Lecithin, Vanilla), Raisins, Almonds, Cashews, Sugar, and less than 2% of the following: Artificial Color (Blue 1, Blue 1 Lake, Blue 2 Lake, Yellow 5, Yellow 5 Lake, Yellow 6, Yellow 6 Lake, Red 40, Red 40 Lake), Vegetable Oil (Peanut, Soybean, Sunflower, and/or Cottonseed Oil), Salt, Sorbitol, Phosphoric Acid, Methyl and Propyl Parabens, Corn Syrup, Beeswax, Carnauba Wax, and Dextrin. CONTAINS ALMOND, CASHEW, MILK, PEANUT, AND SOY INGREDIENTS. MAY CONTAIN TRACES OF OTHER TREENUTS
Product Number: 00028400034821