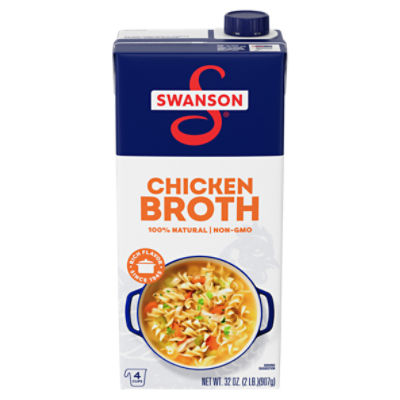 Swanson Chicken Broth, 32 oz
Sale Information
On Sale!
Sale price valid from 3/31/2023 until 4/6/2023
Description
Swanson Chicken Broth, 32 oz Elevate your homemade meals with the rich, full-bodied flavor of Swanson Chicken Broth. Swanson's chicken broth brings together the perfectly balanced flavors of farm-raised chicken, vegetables picked at the peak of freshness, and high-quality seasonings in a convenient recyclable carton. And just like homemade, our broth uses only 100% natural, non-GMO ingredients, with no MSG added*, no artificial flavors or colors, and no preservatives. More convenient than chicken bouillon, this fat-free, gluten-free chicken broth is a versatile ingredient for your everyday cooking, adding flavor and moisture to both entrees and side dishes. It's great as a soup base, and it can be used instead of water to boost rich flavor in rice, pasta and veggies. Swanson Chicken Broth is a must-have-for your holiday cooking, bringing richer, elevated homemade flavor to mashed potatoes, stuffing and more. It's not just any broth. It's Swanson. *Small amount of glutamate occurs naturally in yeast extract
Ingredients
Chicken Stock; Salt; Natural Flavoring; Mirepoix (Carrots, Celery, Onions); Chicken Fat; Yeast Extract;
Nutrition Facts
4 servings pr container
Product Number: 00051000121141
Sale Information
On Sale!
Sale price valid from 3/31/2023 until 4/6/2023
Description
Swanson Chicken Broth, 32 oz Elevate your homemade meals with the rich, full-bodied flavor of Swanson Chicken Broth. Swanson's chicken broth brings together the perfectly balanced flavors of farm-raised chicken, vegetables picked at the peak of freshness, and high-quality seasonings in a convenient recyclable carton. And just like homemade, our broth uses only 100% natural, non-GMO ingredients, with no MSG added*, no artificial flavors or colors, and no preservatives. More convenient than chicken bouillon, this fat-free, gluten-free chicken broth is a versatile ingredient for your everyday cooking, adding flavor and moisture to both entrees and side dishes. It's great as a soup base, and it can be used instead of water to boost rich flavor in rice, pasta and veggies. Swanson Chicken Broth is a must-have-for your holiday cooking, bringing richer, elevated homemade flavor to mashed potatoes, stuffing and more. It's not just any broth. It's Swanson. *Small amount of glutamate occurs naturally in yeast extract
Product Number: 00051000121141
Ingredients
Chicken Stock; Salt; Natural Flavoring; Mirepoix (Carrots, Celery, Onions); Chicken Fat; Yeast Extract;
Nutrition Facts
4 servings pr container
Product Number: 00051000121141