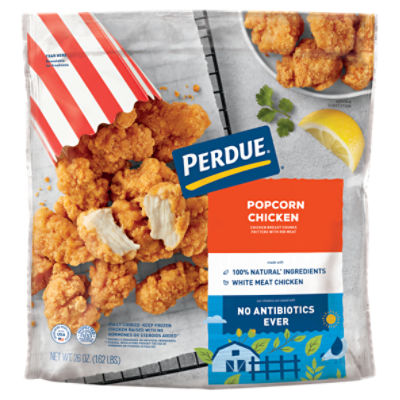 Perdue Popcorn Chicken, 26 oz
Sale Information
On Sale!
Sale price valid from 3/24/2023 until 3/30/2023
Description
Perdue Popcorn Chicken, 26 oz Chicken Breast Chunks Fritters with Rib Meat No antibiotics ever!* *Our chickens are raised with ✓ No animal by-products ✓ All vegetarian diet ✓ Cage free in the USA Made with 100% all natural† chicken †Minimally processed. No artificial ingredients No hormones or steroids added‡ ‡Federal regulations prohibit the use of hormones or steroids in poultry. Eating on the run is quick, easy and flavorful with Perdue® Popcorn Chicken! Enjoy the superior taste in a convenient, bite-size chicken breast meat chunk with a homestyle breading that's browned to a satisfying crunch. Perdue® Popcorn Chicken is great for after school snacks or a meal with: Ranch dressing dipping sauce French fries Macaroni and cheese
Ingredients
Boneless Skinless Chicken Breast with Rib Meat; Water; Contains less than 2% of Salt, Garlic Powder, Onion Powder; Breaded with: Wheat Flour, Water, Corn Starch, Sugar, Yellow Corn Flour. Contains less than 2% of Salt, Spices, Garlic Powder, Extractives of Paprika, Spice Extractive, Onion Powder, Extractives of Paprika and Annatto, Wheat Gluten;
Nutrition Facts
9 servings pr container
Product Number: 00072745804618
Sale Information
On Sale!
Sale price valid from 3/24/2023 until 3/30/2023
Description
Perdue Popcorn Chicken, 26 oz Chicken Breast Chunks Fritters with Rib Meat No antibiotics ever!* *Our chickens are raised with ✓ No animal by-products ✓ All vegetarian diet ✓ Cage free in the USA Made with 100% all natural† chicken †Minimally processed. No artificial ingredients No hormones or steroids added‡ ‡Federal regulations prohibit the use of hormones or steroids in poultry. Eating on the run is quick, easy and flavorful with Perdue® Popcorn Chicken! Enjoy the superior taste in a convenient, bite-size chicken breast meat chunk with a homestyle breading that's browned to a satisfying crunch. Perdue® Popcorn Chicken is great for after school snacks or a meal with: Ranch dressing dipping sauce French fries Macaroni and cheese
Product Number: 00072745804618
Ingredients
Boneless Skinless Chicken Breast with Rib Meat; Water; Contains less than 2% of Salt, Garlic Powder, Onion Powder; Breaded with: Wheat Flour, Water, Corn Starch, Sugar, Yellow Corn Flour. Contains less than 2% of Salt, Spices, Garlic Powder, Extractives of Paprika, Spice Extractive, Onion Powder, Extractives of Paprika and Annatto, Wheat Gluten;
Nutrition Facts
9 servings pr container
Product Number: 00072745804618