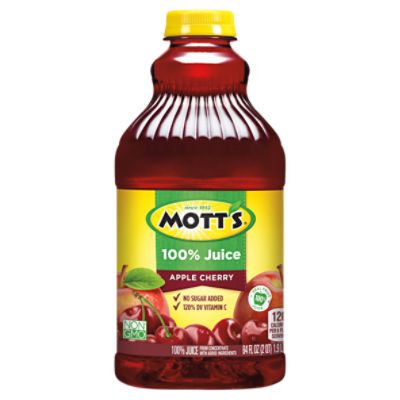 Sale Information
On Sale!
Sales price valid from 12/4/2022 until 12/10/2022
Description
Mott's Apple Cherry 100% Juice, 64 fl oz 100% Juice from Concentrate with Added Ingredients 2 Servings of Fruit* per 8 Fl Oz *Provides 2 Servings of Fruit per 8 Fl Oz. Current USDA Dietary Guidelines Recommend a Daily Intake of 2 Cups of Fruit for a 2,000 Calorie Diet. 1 Serving = 1/2 Cup
Ingredients
Water; Apple and Cherry Juice Concentrates; Ascorbic Acid (Vitamin C); Vegetable and Fruit Juice (for color); Natural Flavors;
Nutrition Facts
servings pr container
Product Number: 00014800004397
Sale Information
On Sale!
Sales price valid from 12/4/2022 until 12/10/2022
Description
Mott's Apple Cherry 100% Juice, 64 fl oz 100% Juice from Concentrate with Added Ingredients 2 Servings of Fruit* per 8 Fl Oz *Provides 2 Servings of Fruit per 8 Fl Oz. Current USDA Dietary Guidelines Recommend a Daily Intake of 2 Cups of Fruit for a 2,000 Calorie Diet. 1 Serving = 1/2 Cup
Product Number: 00014800004397
Ingredients
Water; Apple and Cherry Juice Concentrates; Ascorbic Acid (Vitamin C); Vegetable and Fruit Juice (for color); Natural Flavors;
Nutrition Facts
servings pr container
Product Number: 00014800004397