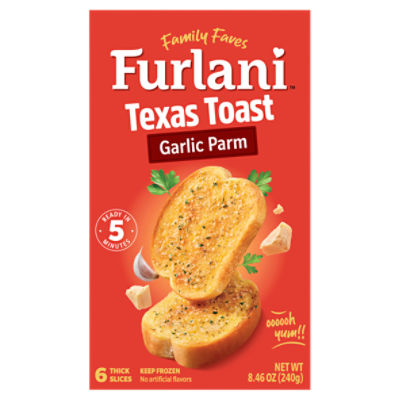 Furlani Garlic Parm Texas Toast, 6 count, 8.46 oz
Sale Information
On Sale!
Sale price valid from 3/24/2023 until 3/30/2023
Description
Furlani Garlic Parm Texas Toast, 6 count, 8.46 oz Texas style, thick sliced toast, crispy on the outside yet soft on the inside. Topped with just the right amount of our flavorful Furlani garlic and Parmesan spread, and garnished with parsley. As the delicious aroma of freshly baked garlicky goodness wafts through the kitchen, it draws everyone to the table and is the hero of the meal. Quick and easy to prepare. Available in the frozen department
Ingredients
Bread: Enriched Wheat Flour (Flour, Ascorbic Acid added as a dough conditioner, Niacin, Reduced Iron, Thiamine Mononitrate, Riboflavin, Folic Acid), Water, Soybean Oil, Yeast, Sugar, Salt, Calcium Propionate (Preservative), Microbial Enzymes; Spread: Soybean Oil, Water, Palm Oil, Dried Garlic, Parmesan Cheese (Milk, Salt, Bacterial Culture, Microbial Enzymes), Salt, Mono- and Diglycerides, Natural Flavors, Dried Parsley, Beta-Carotene (Color);
Nutrition Facts
6 servings pr container
Product Number: 00059635001951
Sale Information
On Sale!
Sale price valid from 3/24/2023 until 3/30/2023
Description
Furlani Garlic Parm Texas Toast, 6 count, 8.46 oz Texas style, thick sliced toast, crispy on the outside yet soft on the inside. Topped with just the right amount of our flavorful Furlani garlic and Parmesan spread, and garnished with parsley. As the delicious aroma of freshly baked garlicky goodness wafts through the kitchen, it draws everyone to the table and is the hero of the meal. Quick and easy to prepare. Available in the frozen department
Product Number: 00059635001951
Ingredients
Bread: Enriched Wheat Flour (Flour, Ascorbic Acid added as a dough conditioner, Niacin, Reduced Iron, Thiamine Mononitrate, Riboflavin, Folic Acid), Water, Soybean Oil, Yeast, Sugar, Salt, Calcium Propionate (Preservative), Microbial Enzymes; Spread: Soybean Oil, Water, Palm Oil, Dried Garlic, Parmesan Cheese (Milk, Salt, Bacterial Culture, Microbial Enzymes), Salt, Mono- and Diglycerides, Natural Flavors, Dried Parsley, Beta-Carotene (Color);
Nutrition Facts
6 servings pr container
Product Number: 00059635001951