Search results
Pacific Foods Original Ultra Soy Plant-Based Beverage, 32 fl oz, $3.49
Pacific Foods Ultra Soy Original Plant-Based Beverage adds a touch of sweetness and a whole lot of essential minerals and vitamins for a refreshing beverage that's as nutritious as it is delicious. The result is our signature taste that's a pleasure to drink by the glass and blends perfectly in recipes. Good source of Vitamin D, Calcium, Vitamin A and Vitamin E. Gluten-free and vegan. At Pacific Foods, we're proud of using time-honored recipes and quality ingredients. We steer clear of additives and GMOs and always will. Our mission is to nourish every body, one meal at a time.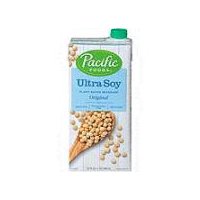 Plant Goodness
No Artificial Ingredients
Heart Health
Pacific Foods Original Ultra Soy Plant-Based Beverage, 32 fl oz
Open Product Description
Wholesome Pantry Organic Original Soymilk, half gallon, $2.99
Meets the FDA's Heart Healthy Claim. Diets Low in Saturated Fat and Cholesterol that Include 25g of Soy Protein a Day May Reduce the Risk of Heart Disease. Wholesome Pantry Soymilk Contains 6.5g of Soy Protein per Serving.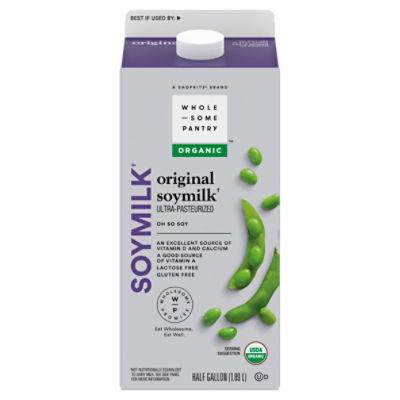 Plant Goodness
No Artificial Ingredients
Heart Health
Wholesome Pantry Organic Original Soymilk, half gallon
Open Product Description