Search results
Clorox 2 for Colors 3-in-1 Laundry Additive, Original Scent, 66 Fluid Ounces, $12.49
Remove the stain and not the color with Clorox 2® for Colors 3-in-1 Laundry Additive. This color-safe formula removes visible and invisible dirt, even the surface-level dirt that can't be seen by the naked eye. It also removes odor and helps keep your clothes looking newer, longer. This stain remover packs a special brightening punch as it brightens colors and whitens whites all without harming the color of your fabric. Everyday stains, no problem. Clorox 2® for Colors makes doing laundry way easier as it combats everyday stains in the wash, or you can pretreat tough stains including ink, blood, coffee and more and watch stains disappear within minutes. The bleach-free formula is safe to add this laundry essential to every load with detergent for color brightening power and a total clean. Win the battle against odor and tough stains and keep clothes bright and looking new with Clorox 2® for Colors Laundry Additive.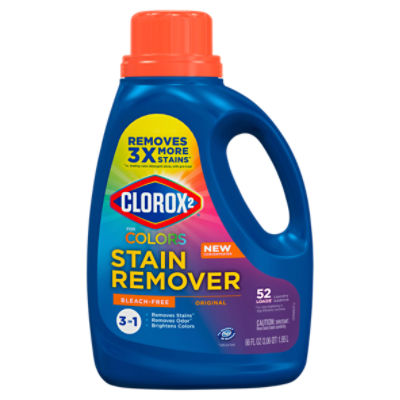 Clorox 2 for Colors 3-in-1 Laundry Additive, Original Scent, 66 Fluid Ounces
Open Product Description
Clorox Disinfecting Bleach, Regular - 121 Ounce Bottle, $9.29
50% more uses for more concentrated cleaning power. Clorox™ Disinfecting Bleach with CloroMax™ kills 99.9% of household germs and bacteria including norovirus, flu virus, MRSA, E. Coli, and Salmonella left on household surfaces such as countertops, floors, toilets and more. Formulated for 50% more uses, this concentrated bleach has more whitening and disinfecting power versus Clorox® Performance Bleach1. Get more cleaning power per drop compared to Clorox® Disinfecting Bleach2 and reduce the amount of bleach required for cleaning. This cleaning bleach contains CloroMax™ Technology to protect household surfaces as it cleans, so stains won't stick and cleanup is easier. It also whitens whites and keeps clothes whiter longer, while removing 70% more stains than detergent alone. Remove tough laundry stains from white clothes including red wine, grass, dirt and blood stains with America's #1 bleach. A little goes a long way with Clorox™ Disinfecting Bleach.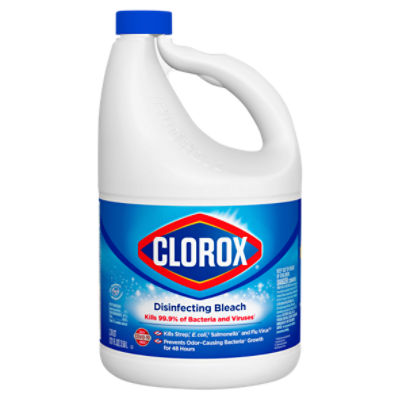 Clorox Disinfecting Bleach, Regular - 121 Ounce Bottle
Open Product Description
Paperbird Concentrated Bleach, 81 fl oz, $4.39
Paperbird Concentrated Bleach, 81 fl oz Kills COVID-19 virus** **SARS-related coronavirus 2 (cause of COVID-19) on hard, non-porous surfaces only. Kills 99.9% of Germs* *Staphylococcus aureus, salmonella enterica, escherichia coli, trichophyton interdigitale (athlete's foot fungus), human coronavirus, influenza A virus, rhinovirus type 37 Fabric protection† †Conditions surface by reducing soil adhesion. Keeps whites brighter longer+ +When compared to bleach that only contains sodium hypochlorite and water.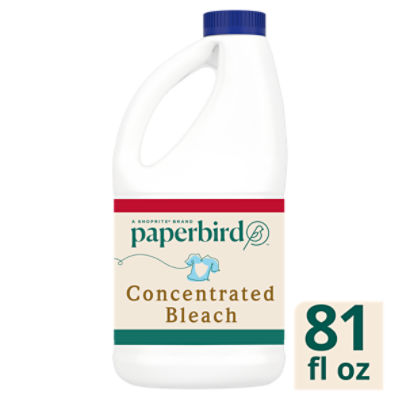 Paperbird Concentrated Bleach, 81 fl oz
Open Product Description