Search results
Purina Friskies Made in USA Facilities Cat Treats, Party Mix Beachside Crunch - 20 oz. Canister, $9.99
Make treat time an ocean of fun for your cat when you give her Purina Friskies Party Mix Beachside Crunch adult cat treats. Real ocean whitefish is the number 1 ingredient in this mouthwatering recipe, and every bite delivers shrimp, crab and tuna flavors for the irresistible seafood taste cats love. Each serving features a crunchy, satisfying texture that also helps keep her teeth clean. She gets the snacking experience she loves, and you get the happiness that comes from watching her playfully bat around each piece with her paws before she eats every morsel. These adult cat treats include appealing shapes that capture her attention, making snack time as exciting as it is delicious. Give your cat a reason to purr when she sees you reach for a package of these Purina Friskies Party Mix treats, and show her just how much you love spending playful moments with her.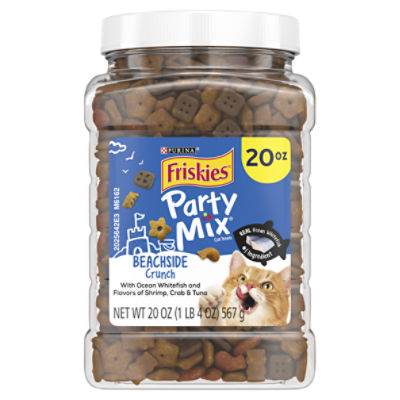 Purina Friskies Made in USA Facilities Cat Treats, Party Mix Beachside Crunch - 20 oz. Canister
Open Product Description
Purina Friskies Natural Cat Treats, Party Mix Natural Yums With Wild Tuna - 2.1 oz. Pouch, $1.69
Turn ordinary moments into special shared celebrations by offering your cat Purina Friskies Party Mix Natural Yums With Wild Tuna With Added Vitamins, Minerals and Nutrients cat treats. Made with wild tuna for the seafood taste cats crave, Natural Yums spark your cat's excited anticipation as soon as she hears you open the pouch. We craft our tasty, natural cat treats from real ingredients and with no artificial flavors, colors or preservatives. We add vitamins, minerals and nutrients to create a snack you can feel great about serving. The fun shapes keep your curious kitty engaged, and the texture of these crunchy cat treats helps her teeth stay clean. Friskies Party Mix Natural Yums are manufactured in USA facilities, so you can enjoy the peace of mind that comes from knowing exactly where your cat's treats are manufactured. To keep snack time exciting, let your cat try our other delicious Natural Yums varieties.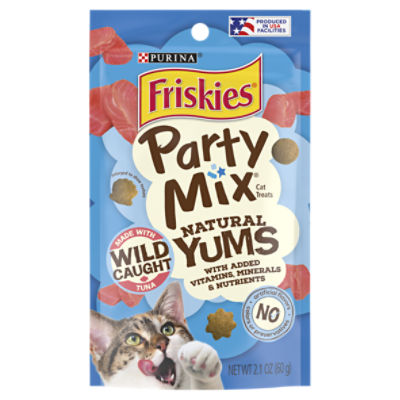 Purina Friskies Natural Cat Treats, Party Mix Natural Yums With Wild Tuna - 2.1 oz. Pouch
Open Product Description